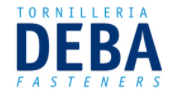 Contact information
Main languages


Superficie ocupada (m2)
6800
Facturación (en miles de €)
8000
% Exportación / Facturación
40.00
Web
http://www.tornilleriadeba.com
Persona de contacto
Mikel Martín
Teléfono
(0034) 943 762940
Correo electrónico de empresa
info@tornilleriadeba.com
Productive information
Actividad productiva
170 Millions Pieces, 3800 Tons. Capacity: from 6 to 24 mm. Large capacity: from 12 to 150 mm.
Cold Stamping Sector. Cold deforming components production, specially for the automotive and auxiliary industry.
SCREWS: Standarized, " Package ", with incorporated hanging washer and special according to drawing.
NUTS: Specials according to drawing and standarized.
ADAPTERS: Standarized, autowelded with one or two threads.
SCREWS AND NUTS WELDED: Standarized and according to drawing.
SPECIAL PARTS. MATERIAL QUALITY: Screw 4.8, 5.6, 6.8, 8.8, 9.8, 10.9 y 12.9 . Nuts: 6, 8, 10. And all kind of material.
Maquinaria principal
SCREW MACHINERY:
5 Bolmaker Transfer Machines
4 Hilgeland Two Blow Machines.
5 Reduction and Die-stamping machines.
6 Tuning machines
4 Rolling thread machines.
2 Rolling thread with washer machines.
MACHINERY-NUTS:
4 Transfer Stamping machines
6 Metal cutting threading machines.
4 Rolling threading machine with backlash
2 Rolling threading machines with 2 heads and backlash.
AUXILIARY MACHINES
Pickling and Phosphating plant.
2 Wire drawing machines.
1 Washing tunnel. Mechanical Workshop. Spark erosion and mechanical equipment.
Medios de manutención
Bridge cranes,
Monorail cranes and windlasses.
Trucks,
Electric Handler and Pallet loaders for moving material.
Medios de control
Unit selection machine (Laser cameras) Testing machine. (Traction and compression )Magnaflux. Magnates Salt spray chamber. Section projectors. Permascope (Thickness meter) Microdurometer and durometers. Dynamometer keys and plates (tightening plates) MicroscopesEquipment
Certificados y homologaciones
ISO 9001
Sectores cliente
AUTOMOTION
Materias primas
CARBON STEEL
Actividades principales
2.7.1.Cold pressing (stamping)