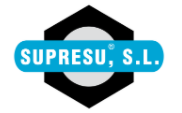 Contact information
Address
Donosti Ibilbidea 120 Nave 1
Main languages


Superficie ocupada (m2)
380
% Exportación / Facturación
40.00
Web
http://www.supresu.com
Persona de contacto
Ana Plaza
Teléfono
(0034) 943 554100
Correo electrónico de empresa
sales@supresu.com
Productive information
Actividad productiva
Bar automatic lathing. Special turning machine (Mobile tailstock lathe for roll material machining). CNC tuning machine, 1-42 mm moving head. Bar turning. Mechanics of precision. Micro-mechanic. Plastic products machining. Manufacture of prototypes in CNC. Vertical CNC machining centres. Grinding CNC prototypes production
Productos propios
Punches and strikers for all type of firearms.Punches and ejectors, columns and guide bushings, for moulds and matricesPrestressed sockets and plugs, pins and plots for electronics, electromedicine, telecommunications, IT. Male-female, male-male, female-female threaded thimbles for printed circuits.Microscrews. Seal screws. Threaded studs with groove DIN 551 y DIN 553. Special screws, ISO 7379 ,ISO 7380, DIN 912 and VANDAL-PROOF in STAINLESS STEEL
Maquinaria principal
6 CNC automatic lathes, fixed and moving tailstock, 4-5-6-8 axis, from 1-42 mm. diam. in bar, all with automatic bar loader up to 4 m
1 Vertical machining centre (CNC), 5 axis X=500,Y=380,Z=300.
1 Fine automatic lathe, with counter collet, counterbore and threading, milled from the revolver, etc. diameter capacity 1-6.5 mm, for roll material machining, minimum series 100,000 parts. 3 x 1-7 mm lathes with automatic loader.
1 Multi-spindle lathe, 22-mm. capacity.
1 Milling machine for Micromechanics.
1 Transfer machine EUBAMAT S-5.2 Screwing and threading machines M2-M8 with master spindle.
1 Screw slotting machine.
1 AGATHON and other
Medios de manutención
Bridge crane 3.5 T.
Medios de control
Tridimiensional Carl ZeissMachine CNC Quick scope Section projector (MITUTOYO) PJ-3000 with geometrical calculator Qm Data 200 Profilometer, Durometer, MITUTOYO and ISOMA Microscope, Miruc, Measurement bed, Standard test bore, Hardmetal. Micrometers of interiors, exteriors, threads, centesimal and millesimal dial gauges with and without data output. Smooth plug callipers. G-NG thread, ring check threads. SPC measuring system.
Certificados y homologaciones
ISO 14001
Sectores cliente
AUTOMOTION
Materias primas
TECHNICAL PLASTICS
Actividades principales
3.13.3.Internal cylindrical and taper