MECANIZADOS POR ARRANQUE DE VIRUTA DE ESPIEL S.L. (MAVE)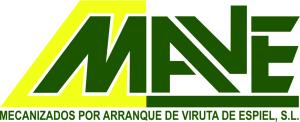 Contact information
Address
Polígono Industrial El Caño II - Parcela 10-E.2.1.
Main languages

Otros idiomas hablados
CASTELLANO
Superficie ocupada (m2)
3600
Facturación (en miles de €)
900000
% Exportación / Facturación
0.00
Web
www.mecanizadosmave.com
Persona de contacto
Jonathan
Teléfono
957363334 / 621241640
Correo electrónico de empresa
pedidos@mecanizadosmave.es
Productive information
Actividad productiva
MACHINING BY CHIP REMOVING
MANUFACTURING OF METALLIC STRUCTURES (medium-small size)
MECHANOSOLDING.
MECHANICAL / INDUSTRIAL MAINTENANCE.
MACHINERY ASSEMBLIES.
LASER CUTTING, PLASMA, OXYCUTTING.
BENDING OF ALL TYPES OF SHEETS.
SURFACE TREATMENTS (paint, anodized, zinc plated, blued, chrome...)
HEAT TREATMENT (vacuum hardened, induction hardened, case hardened, nitered, nitrocarburized, stabilized, tempered...)
Maquinaria principal
CENTROS DE MECANIZADO
NUMERICAL CONTROL LATHES
CONVENTIONAL MACHINING MACHINERY (lathes, milling machines, slotting machines, grinding machines, threading machines...)
CUTTING SAWS.
WELDING TYPE (MIG - TIG - ARC - ALUMINUM)
Medios de control
QUALITY STAY FOR VERIFICATION OF PARTS
ISO 9001
Certificados y homologaciones
ISO 9001
Sectores cliente
AUTOMOTION
Actividades principales
3.CHIPFORMING METAL CUTTING