IRIARTE MANUTENCION, S.L.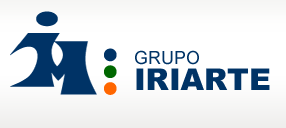 Contact information
Address
Barrio Landeta s/n - c/Antzibarrena 3
Main languages



Superficie ocupada (m2)
8000
Facturación (en miles de €)
4200
% Exportación / Facturación
10.00
Web
http://www.tpiriarte.com
Persona de contacto
Sra. Irene Iriarte
Teléfono
(0034) 943 811738
Correo electrónico de empresa
irene@iriartemanutencion.com
Productive information
Actividad productiva
Sheet metal works according to customer's drawing: bedframes, machine foots, trays, protective coverings, supports, protective devices for all kind of machinery. Gas-cutting works with optical following. Electric cabinets for machine manufacturers, electronical shops, rolling mills, steel mills, etc. Building formwork
Productos propios
Roller conveyors, lifting tables, belt conveyors.
Maquinaria principal
1 Hydraulic shear with 2500 mm opening for 3 mm max sheet thickness MEBUSA.
1 Hydraulic shear with 3000 mm opening for 20 mm max sheet thickness, MEBUSA.
2 Hydraulic folders of 100 ton and 3000 mm opening and 90 ton and 2500 mm opening, MEBUSA.
1 CNC folder MEBUSA of 170 ton and 3000 mm opening.
1 Mechanical press of 60 ton, AITOR.
1 Sheet bender for 15 mm max sheet thikness, CASANOVA.
1 Home-made hydraulic pipe bender for 60 mm max diameter pipes.
1 Gas-cutting equipment with optical following, SEO.
1 Mechanical crosscut saw.
1 Pneumatic crosscut saw, GAIRU.
1 Punching machine GOITI-NISSHIBO with CNC autoindex.
1 Sheet cutter for 90º angles and 5 mm máx sheet thickness, B.R.G.
1 Inside sheet cutter for 4 mm max sheet thikness, GIARU.
20 Semi-automatic wire welding equipments, SEO.
3 Arc welding equipments.
1 Spot welding equipment.
3 Column drills for 20, 30 and 40 mm max diameter drill, IBARMIA. 3 Mechanical lathes with 2000 mm d.b.c., INLASA.
1 Automatic cutting machine ADIGE.
1 Automatic cutting machine SABI.
1 Automatic Hack sawing machine SABI. 1 ERLO drill TCA-50.
1 ERLO milling drill TF-35 con table 1220x360. 1 ERLO milling drill TF-35 with operation. 1 Lathe SMT numerical control. 1 Gear cutting, capacity 5140, diameter 500 mm. 1 painting system with drying oven. 1 AUTO-CAD set.
Profiling plant with 18 headers
3 weldings robots
Painting and drying cabin
2 CNC milling machine
4 Adige automatics saws
Medios de manutención
14 Overhead cranes up to 25 tons
Sectores cliente
AUTOMOTION
Actividades principales
2.CHIPLESS METAL FORMING