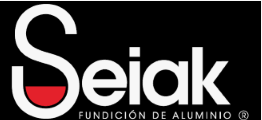 Contact information
Address
Bº La Florida, 148
Main languages


Otros idiomas hablados
Euskara
Superficie ocupada (m2)
3000
Facturación (en miles de €)
1800
% Exportación / Facturación
10.00
Persona de contacto
Sergio Barrón
Teléfono
(0034) 943556650
Correo electrónico de empresa
comercial@seiak.net
Productive information
Actividad productiva
Casting in series of all kinds of parts in aluminium and its alloys in gravity. Chill moulding and sand casting systems (metal mould) in a plant 3000 Mts2 with 23 workers.Supplementary services to casting:• Manufacture of models and metal moulds • Thermal treatments• Machining• Surface finishing• Mechanical, chemical tests, etc…Quality system implemented in accordance with ISO 9001-2000 standard.Risk at work prevention system implemented, Law 31/1995 of 8/11
Maquinaria principal
MOULDING SECTION
Manual moulding, green sand and chemical moulding oriented towards parts for prototypes and large parts up to 500 Kg.
Moulding machines, carrousel 1, with moulding machines for boxes 450 x 330 mm h100/300, up to 520 x 430 mm h100/300. Carrousel 2, with moulding machines for boxes 540 x 540 mm h100/300, 900 x 600 mm h200/300 and 900 x 800 h200.
6 Chill moulding machines, with hydraulic and pneumatic movement.
COREMAKING SECTION
25 ton silo for sand
3 Mixing mills
4 coreshooting machines, 0.5 l 5 l, 12 l and 25 l
MELTING SECTION
3 MORGAN 160 KG/ AL
Electric ovens 3 TP 300 Kg / AL
Electric ovens2 TP 300 Kg / AL gas combustion tilting ovens
FOSECO Degassing machines
DE-BURRING SECTION
DE-burring machines, saws, part-off machines and MEBUSA shotblasting machine
Medios de control
Brinell table durometer and machine for beam. Test-pipe traction machine. Vacuum unit for gas control.
Certificados y homologaciones
ISO 9001
Materias primas
ALUMINIUM
Actividades principales
1.4.1.Aluminium