FUNDICIONES AIZPURUA, S.A.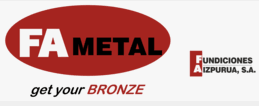 Contact information
Address
Polígono Aranguren, 7
Main languages



Otros idiomas hablados
italiano
Superficie ocupada (m2)
5000
Facturación (en miles de €)
4500
% Exportación / Facturación
30.00
Web
www.fundicionesaizpurua.com
Persona de contacto
Igor Olagüe
Teléfono
(0034) 943 490288
Correo electrónico de empresa
aizpurua@fundicionesaizpurua.com
Productive information
Actividad productiva
Parts cast in bronze and aluminium bronze up to a maximum weight of 2000 kg. Metallic mould individual centrifugal casting system. Machining of parts in a lathe and a boring machine up to maximum diameter of 1500 mm. Production: reducer rims for lifts, rims for industrial reducers, spindle nuts, tiles for rolling mills. Work for the following industries: Machine tool, lifting machinery, naval construction, construction of machines and equipment for iron and steel and casting. Public works.
Maquinaria principal
1 "Inductotherm" Induction furnace 1000kg.
4 "Inductotherm" Induction furnaces 500kg.
1 Rotating table with 50 centrifuges
5 Linear tables each with 10 centrifuges
1 Centrifuge up to 1500 mm diam.
1 Linear table with 8 centrifuges for bars.
11 TOR, GEMINIS, JASONE, LACFER parallel lathes, d.b.p. 2000-4000 mm
1 TADU open air lathe, 1500 mm diam.
1 ARRIOLA boring machine, bar diam. 60 mm.
2 DANOBAT drillers.
1 GEMINIS CNC lathe, 800 mm diam and d.b.p 1500 mm.
1 LEALDE CNC lathe, 250 diam.
1 AMUTIO lathe.
1 Correa milling machine
1 LEALDE CNC lathe diam. 5001 MORI SEIKI double head lathe 400 diam.
1 MORI SEIKI lathe 250 diam.
1 HOYTOM mortising machine
Medios de manutención
1 x 10 ton JASO bridge crane
2 x 5 ton JASO bridge cranes
1 x 5 ton DEMAG bridge crane
1 x 1500 kg AGUIRRE HNOS crane
5 x 500 kg AGUIRRE HNOS cranes
6x 1,000 kg DEMAG cranes
1 x 2000 kg Forklift Truck
1 x 1000 kg Forklift Truck
Medios de control
Brinell durometer, machine for traction tests, spectrometer, ultrasonicsMetrology elements, callipers, gauges, micrometers, dial gauges, durometer, etc
Certificados y homologaciones
ISO 9001
Materias primas
BRONZE INGOT
Actividades principales
1.5.2.Sn Bronze