ENGRANAJES GRINDEL, S.A.L.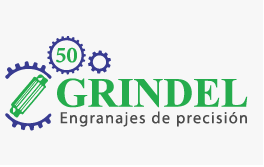 Contact information
Address
Polígono Industrial Arriaga, 7
Main languages



Superficie ocupada (m2)
3356
Facturación (en miles de €)
8000
% Exportación / Facturación
65.00
Web
http://www.grindelgears.com
Persona de contacto
Iñaki Abecia
Teléfono
(0034) 943 748201
Correo electrónico de empresa
export@grindelgears.com
Productive information
Actividad productiva
Ground gears wheels and pinions:
Module: From 1 to 14
D/D: From 24'' to 2 ¼''
Diameter: From 25 mm - 1'' to 1000 mm - 27''
Splined Shafts Milling:Max. Length: 600 mm. - 23''Min. Diam. (mm.-D/P) : 16 mm - ¾''Max Diam. (mm.-D/P): 100 mm - 4''
Grinding: Max. Length: 1200 mm. - 47''Min. Diam. (mm.-D/P): 16 mm - ¾''Max Diam. (mm.-D/P): 120 mm - 4 ¾''
Productos propios
Cylindrical gears, spur and helical.
Internally toothed gears.
Splined shafts.
Core competence: GROUND gears and splined shafts.
Maquinaria principal
External, Internal, Teeth and Splined Shafts grinders: REISHAUER and DANOBAT.
Gear hobbing machines: GLEASON.
Lathes: GURUTZ`PE, CMZ and PINACHO.
Milling machines: AGME and LAGUN.
Broaching machines: LEISSER and JARBE.
Teeth rounders PICCO.
Medios de manutención
Overhead cranes.
Hoisting blocks.
Medios de control
CNC Involute and Lead Measuring machines: KLINGELNBERG and GLEASON.
3D Measuring machine: ZEISS and MITUTOYO.
Hardness testing device.
Etc.
Certificados y homologaciones
ISO 14001
Sectores cliente
MACHINERY
Actividades principales
3.8.1.Spur