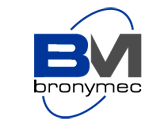 Contact information
Address
Polg. Arriaga, Ferrería Kalea, 4
Main languages



Otros idiomas hablados
Spanish, Euskera
Superficie ocupada (m2)
2400
Facturación (en miles de €)
4200
% Exportación / Facturación
15.00
Web
http://www.bronymec.com
Persona de contacto
Jon Etxeberria
Teléfono
(0034) 943742807
Correo electrónico de empresa
export@bronymec.com
Productive information
Actividad productiva
Parts machining, up to 1750mm x 750mm. Parts turning in CNC and Centre Lathes up to ø160mm.
Productos propios
Distribution of
+ Bronzes
+ Aluminiums
+ Quadrant Technical Plastics, manufacturer of quality marks, like Ertalón, Ertalyte, Nylatron, Ketron-Peek, Macrolon, Vivak…
+ Composites: HP2061, HGW2082, G-11, GPO-3, Mica, Bioceramic,...
Maquinaria principal
+ 6 KONDIA Machining centers by Fagor CNC.
+ MAZAK VTC-300C-II Machining center
+ CAZENEUVE centre lathe.
+ IBA Drilling machine.
+ OL400A Automatic sawing machine by horizontal cutting, cutting capacity up to ø400.
+ BEHRINGER HBP 303 Band sawing machine of high performance, with automatic control panel. Cutting capacity 300mm x 300mm.
+ EGURKO ORTZA Opal 32 Disc Sawing Machine.
+ EGURKO ORTZA SE-300F Disc Sawing Machine.
+ Internal and external Micrometers.
+ Mitutoyo digital measurement column.
Medios de manutención
+ 2 Agirre cranes of 6,3 T.
+ Forklift Truck of 1000 Kg.
+ FIAT E20B Forklift Truck of 2000 Kg.
+ Own Van.
+ Project of extranet for the follow-up, order consultations and stock control.
Certificados y homologaciones
TEMOIN, S.A.
Materias primas
TECHNICAL PLASTICS
Actividades principales
3.1.2.Horizontal band saw