ARROSPE, S.COOP. LTDA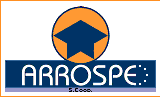 Contact information
Address
Avda. Aranztegi, 14
Main languages


Otros idiomas hablados
Euskera
Superficie ocupada (m2)
7200
Turover (in thousands of €)
6000
Web
http://www.arrospe.com
Contact person
Sr. Javier de Cristobal
Productive information
Description of the company and its activity
Engineered custom metal fabrication & installation company specialized in stainless steel, nickel-alloys and other special metals (titanium).
37 years of experience in the fabrication and installation of pressure vessels, tanks, reactors, separators, columns, heat-exchangers, skid units and piping installations.
7100m2 workshop with lifting capacity up to 45 ton, integrating the fabrication processes of cutting, forming, welding, non destructive tests, and surface finishing.
Detail engineering capacity (6 industrial engineers, and 1 International Welding Engineer IWE) for mechanical / thermal calculations and managing the required subcontracting operations up to turn-key products/projects (machining, stress relieving, balancing, etc.)
Fabrication in workshop and/or erection- installation of piping and equipments at client's site.
Sectors: Pulp & paper, chemical, petrochemical, renewable energies, water treatment, food industry, other industrial sectors.
Own products
Silencing inserts for ducts.
Main machinery
1 Ultra high definition Plasma cutting equipment 9500 x 2500/40
Guillotine shears for sheetmetal 4000 long x 20 mm thick.
Intermittent shear for sheetmetal up to 6 mm.
Punching shear. Strength: 80 tonnes. Capacity: Diameter 40 x 14mm thick
Bending presses up to 6000 x 320 tonnes.
Several bending cylinders up to 3m x 40 mm thick.
Pipe cutting machine up to 350
Radial drill up to 50 mm drill.
Ribbon saw 300 x 200 mm.
Portal straightening press, 2500 x 1500 mm and 100 tonnes strength.
Jacking engines up to 30 tonnes.
Positioners up to 15 tonnes
Submerged Arc automatic welding center.
4m column TIG, MIG-MAG welding equipments.
Automated weld procedures.
Drying und maintenance stoves for electrodes.
Stainless st. shotblasting cabin 9x6x5 m.
Cabin for stainless steel chemical pickling, 10x9x9 m.
High pressure sprinkling cleaning machines.
High pressure painting machines, chamfering machines, threading machines, etc.
Means of maintenance
15 gantry cranes up to 40 tonnes
Forklifts up to 4 tonnes
Portable hoist blocks up to 5 tonnes
Centralised air installation
Centralised welding gas installation
Control means
Vacuum test equipment up to 0,3 bar g,
Pressure test equipment up to 80 Kg/cm2.
Thickness meter.
Surface rugosimeter.
Painting coat thickness meter.
Optical level. Digital thermometers.
Dye Penetrant Test.
Radioghapic Tests
Certificates and authorizations
Customer sectors
CHEMICAL
PETRO-CHEMICAL
ENGINEERING
PAPER MANUFACTURING
Raw materials
STAINLESS STEEL
CARBON STEEL
TITANIUM
NICKEL-CHROME ALLOYS
Main activities
2.CHIPLESS METAL FORMING
2.18.SHEET METAL WORK (FABRICATION)
2.18.2.Medium
2.18.4.Stainless steel
2.19.MACHINE WELDING
2.19.4.Stainless steel
2.20.ASSEMBLIES AND SUBASSEMBLIES
2.20.1.Fine machine adjustement
2.20.2.Welding
2.20.3.Bolting