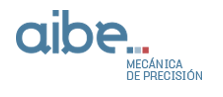 Contact information
Address
Matsaria kalea, 32
Main languages


Superficie ocupada (m2)
2000
Facturación (en miles de €)
3800
% Exportación / Facturación
20.00
Persona de contacto
JON EZPELETA
Teléfono
(0034) 943 120500
Correo electrónico de empresa
jon.ezpeleta@aibe.es
Productive information
Actividad productiva
- Design and construction of: Manufacture tooling. Verification tooling. Special machines.- Special machining and high pressure grinding. Machining by jig boring and grinding machines. Machining by turning, milling, boring, punching and grinding. Patterns, prototypes, unitary parts and short batches. CAD/CAM UNIGRAPHICS
Productos propios
- Standardised elements for die making
- Channel rules and limit stops
Maquinaria principal
2 Jig Grinders MOORE with (FANUC) 450 x 250 CNC.1 Universal cylindrical grinder (STUDER S33 x1000), with FANUC CNC.1 Universal cylindrical grinder (TSCHUDIN) 650 x 300.1 Universal cylindrical grinder (DANOBAT) 800 x 350. 1 Cylindrical grinder (DANOBAT RCP-1200-S with FANUC CNC).1 Surface grinder (JUNG JT-635), 635 x 300. 1 Surface grinder (DANOBAT) 1300 x 550 x 450.1 Surface grinder (TXURTXIL) 600 x 300.1 Burnishing machine - (Sunnen MBB 1600). 1 Universal Machining Centre - (DECKEL MAHO DMU 50T with HEIDENHAIN 500 x 400 CNC). 1 Vertical machining Centre (MORI SEIKI MV 45/50B) with 800 x 480 CNC.1 Vertical Machining Centre (MORI SEIKI SV 500/50 with FANUC 800 x 480 CNC). 1 Boring machine (WOTAN B 75 N with DRO 1000 x 1400).1 Milling machine (CORREA CF-22/20 PLUS with HEIDENHAIN 2000 x 800 CNC).1 Co-ordinate milling and boring machine (MILLTRONICS MB-20 with CENTURION 1000 x 500 CNC).1 Lathe (GILDEMEISTER NEF520 with HEIDENHAIN CNC).In addition, a wide range of lathes, milling machines and conventional coordinate milling and boring machines.
Medios de manutención
Climatised chambers in Grinders, spot grinders and end control Test bench for verification and adjustment of tools
Medios de control
Air-conditioned control room.Three-dimensional measuring, with C-99 ZEISS CONTURA (VAST XT) 700x1000x600 CNC.Height MICRO-HITE.Durometer.Profilometer.In addition, wide range of planeity tables, patterns, alesometers, micrometers, etc.
Certificados y homologaciones
ISO 9001
Sectores cliente
AUTOMOTION
Materias primas
ALUMINIUM
Actividades principales
3.3.1.Center lathe