AIBE, S.A.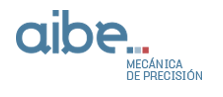 Contact information
Address
Matsaria kalea, 32
Main languages


Superficie ocupada (m2)
2000
Turover (in thousands of €)
3800
Contact person
JON EZPELETA
Email
jon.ezpeleta@aibe.es
Productive information
Description of the company and its activity
- Design and construction of: Manufacture tooling. Verification tooling. Special machines.- Special machining and high pressure grinding. Machining by jig boring and grinding machines. Machining by turning, milling, boring, punching and grinding. Patterns, prototypes, unitary parts and short batches. CAD/CAM UNIGRAPHICS
Own products
- Standardised elements for die making
- Channel rules and limit stops
Main machinery
2 Jig Grinders MOORE with (FANUC) 450 x 250 CNC.1 Universal cylindrical grinder (STUDER S33 x1000), with FANUC CNC.1 Universal cylindrical grinder (TSCHUDIN) 650 x 300.1 Universal cylindrical grinder (DANOBAT) 800 x 350. 1 Cylindrical grinder (DANOBAT RCP-1200-S with FANUC CNC).1 Surface grinder (JUNG JT-635), 635 x 300. 1 Surface grinder (DANOBAT) 1300 x 550 x 450.1 Surface grinder (TXURTXIL) 600 x 300.1 Burnishing machine - (Sunnen MBB 1600). 1 Universal Machining Centre - (DECKEL MAHO DMU 50T with HEIDENHAIN 500 x 400 CNC). 1 Vertical machining Centre (MORI SEIKI MV 45/50B) with 800 x 480 CNC.1 Vertical Machining Centre (MORI SEIKI SV 500/50 with FANUC 800 x 480 CNC). 1 Boring machine (WOTAN B 75 N with DRO 1000 x 1400).1 Milling machine (CORREA CF-22/20 PLUS with HEIDENHAIN 2000 x 800 CNC).1 Co-ordinate milling and boring machine (MILLTRONICS MB-20 with CENTURION 1000 x 500 CNC).1 Lathe (GILDEMEISTER NEF520 with HEIDENHAIN CNC).In addition, a wide range of lathes, milling machines and conventional coordinate milling and boring machines.
Means of maintenance
Climatised chambers in Grinders, spot grinders and end control Test bench for verification and adjustment of tools
Control means
Air-conditioned control room.Three-dimensional measuring, with C-99 ZEISS CONTURA (VAST XT) 700x1000x600 CNC.Height MICRO-HITE.Durometer.Profilometer.In addition, wide range of planeity tables, patterns, alesometers, micrometers, etc.
Certificates and authorizations
Customer sectors
AUTOMOTION
ELECTRICAL DOMESTIC APPLIANCES
CONSTRUCTION
DEFENCE
LOCKSMITHERY
AERONAUTICS
Raw materials
ALUMINIUM
STEEL
BRONZE
BRASS
TITANIUM
CAST IRON (GREY, NODULAR AND STEEL)
Main activities
3.CHIPFORMING METAL CUTTING
3.03.TURNING
3.3.1.Center lathe
3.3.8.CNC lathe
3.04.JIGBORING
3.4.1.Coordinate
3.4.2.CNC
3.05.MILLING
3.5.1.Universal milling
3.5.6.CNC milling
3.06.BORING
3.6.1.Horizontal boring
3.6.2.Vertical boring
3.6.3.CNC boring
3.12.LAPPING AND BURNISHING
3.12.1.Surface
3.12.2.External cylindrical
3.12.3.Internal cylindrical
3.13.GRINDING
3.13.1.Surface
3.13.2.External cylindrical and taper
3.13.3.Internal cylindrical and taper
3.13.4.Universal
3.13.9.Special
3.15.MACHINING CENTRES