LIKALE CAUCHO INDUSTRIAL, S.L.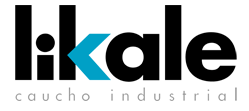 Contact information
Address
Oianzabaleta kalea, 4
Main languages


Turnover (Thousand €)
2999
Contact person
PEIO ALDASORO
Position
BUSINESS UNIT DIRECTOR
Company email address
likale@likale.com
Productive information
Productive activity
Elastomer roller coating.
Experts in all types of ROLLER coatings, Likale has the required technology and know-how to create the most suitable compounds based on natural or synthetic rubbers, solving the customer needs.

Main machinery
18 presses for molding of up to 500 Tn closing force and 3000 cm3 of rubber injection.
Room for rubber mixtures.
3 Cryogenic equipment.
2 Stoves and finishing equipment.
3 Equipment of artificial Vision.

Certificates and authorizations
Customer sectors
FOOD
TEXTILE
PLASTIC
PACKAGING
WOOD
SIDERURGY
PAINT
PAPER MANUFACTURING
Main activities
9.RUBBER
9.1.MOLDING
9.1.1.Injection
9.1.2.Extrusion
9.1.3.Calendering
9.1.4.Pressure-transfer-sintering
9.1.5.Casting, coating
9.1.6.Blowing
9.1.7.Reinforced rubber
9.1.8.Foaming
9.1.9.Gumming
9.1.10.Other mouldings
9.2.FORMING
9.3.MACHINING
9.4.ASSEMBLY
9.5.SURFACE TREATMENTS AND COATINGS