FUNDICIONES AIZPURUA, S.A.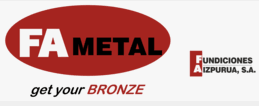 Contact information
Address
Polígono Aranguren, 7
Main languages



Turnover (Thousand €)
4500
Web
www.fundicionesaizpurua.com
Contact person
Igor Olagüe
Company email address
aizpurua@fundicionesaizpurua.com
Productive information
Productive activity
Parts cast in bronze and aluminium bronze up to a maximum weight of 2000 kg. Metallic mould individual centrifugal casting system. Machining of parts in a lathe and a boring machine up to maximum diameter of 1500 mm. Production: reducer rims for lifts, rims for industrial reducers, spindle nuts, tiles for rolling mills. Work for the following industries: Machine tool, lifting machinery, naval construction, construction of machines and equipment for iron and steel and casting. Public works.
Main machinery
1 "Inductotherm" Induction furnace 1000kg.
4 "Inductotherm" Induction furnaces 500kg.
1 Rotating table with 50 centrifuges
5 Linear tables each with 10 centrifuges
1 Centrifuge up to 1500 mm diam.
1 Linear table with 8 centrifuges for bars.
11 TOR, GEMINIS, JASONE, LACFER parallel lathes, d.b.p. 2000-4000 mm
1 TADU open air lathe, 1500 mm diam.
1 ARRIOLA boring machine, bar diam. 60 mm.
2 DANOBAT drillers.
1 GEMINIS CNC lathe, 800 mm diam and d.b.p 1500 mm.
1 LEALDE CNC lathe, 250 diam.
1 AMUTIO lathe.
1 Correa milling machine
1 LEALDE CNC lathe diam. 5001 MORI SEIKI double head lathe 400 diam.
1 MORI SEIKI lathe 250 diam.
1 HOYTOM mortising machine
Main supporting means
1 x 10 ton JASO bridge crane
2 x 5 ton JASO bridge cranes
1 x 5 ton DEMAG bridge crane
1 x 1500 kg AGUIRRE HNOS crane
5 x 500 kg AGUIRRE HNOS cranes
6x 1,000 kg DEMAG cranes
1 x 2000 kg Forklift Truck
1 x 1000 kg Forklift Truck
Control means
Brinell durometer, machine for traction tests, spectrometer, ultrasonicsMetrology elements, callipers, gauges, micrometers, dial gauges, durometer, etc
Certificates and authorizations
Customer sectors
NAVAL
MACHINERY
PUBLIC WORKS
DIE-CASTING
SIDERURGY
REDUCERS
LIFTING
Main activities
1.CASTING
1.5.COPPER AND ITS ALLOYS
1.5.2.Sn Bronze
1.5.3.Al Bronze
1.5.6.Special brass
1.8.MOULDING METHODS
1.8.10.Centrifugal moulding