ENGRANAJES GRINDEL, S.A.L.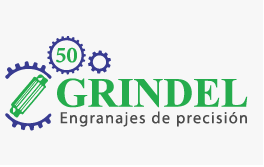 Contact information
Address
Polígono Industrial Arriaga, 7
Main languages



Turnover (Thousand €)
8000
Web
http://www.grindelgears.com
Contact person
Iñaki Abecia
Position
Commercial Dept.
Company email address
export@grindelgears.com
Productive information
Productive activity
Ground gears wheels and pinions:
Module: From 1 to 14
D/D: From 24'' to 2 ¼''
Diameter: From 25 mm - 1'' to 1000 mm - 27''

Splined Shafts Milling:Max. Length: 600 mm. - 23''Min. Diam. (mm.-D/P) : 16 mm - ¾''Max Diam. (mm.-D/P): 100 mm - 4''
Grinding: Max. Length: 1200 mm. - 47''Min. Diam. (mm.-D/P): 16 mm - ¾''Max Diam. (mm.-D/P): 120 mm - 4 ¾''
Own products
Cylindrical gears, spur and helical.
Internally toothed gears.
Splined shafts.
Core competence: GROUND gears and splined shafts.
Main machinery
External, Internal, Teeth and Splined Shafts grinders: REISHAUER and DANOBAT.
Gear hobbing machines: GLEASON.
Lathes: GURUTZ`PE, CMZ and PINACHO.
Milling machines: AGME and LAGUN.
Broaching machines: LEISSER and JARBE.
Teeth rounders PICCO.
Main supporting means
Overhead cranes.
Hoisting blocks.
Control means
CNC Involute and Lead Measuring machines: KLINGELNBERG and GLEASON.
3D Measuring machine: ZEISS and MITUTOYO.
Hardness testing device.
Etc.

Certificates and authorizations
Customer sectors
MACHINERY
AGRICULTURAL MACHINERY
PUMPS
COMPRESSORS
PUBLIC WORKS MACHINERY
ENGINES
REDUCERS
Main activities
3.CHIPFORMING METAL CUTTING
3.8.GEAR CUTTING
3.8.1.Spur
3.8.2.Helical spur
3.8.6.Internal spur
3.10.BROACHING
3.10.1.Internal
3.10.2.External
3.13.GRINDING
3.13.2.External cylindrical and taper
3.13.3.Internal cylindrical and taper
3.13.8.Gear