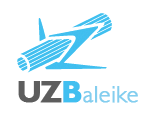 Contact information
Address
Poligono Erratzu, s/n
Main languages


Superficie ocupada (m2)
2500
Facturación (en miles de €)
5500
% Exportación / Facturación
0.00
Persona de contacto
Asier Sasiain
Teléfono
(0034) 943 720661
Correo electrónico de empresa
asasiain@uzbaleike.com
Productive information
Actividad productiva
Steel, Stainless stell and aluminium, medium and fine boilermaking.
CNC cramp-folding, plasma cutting and punching work.
Chassis, protections and closures for tool-machines.
Welding work (MIG, TIG, Synergic) of common and stainless steel, aluminium,brass and copper.
Maintenance boilermaking.
Assemblies
Boilermaking in general
Productos propios
Project for construction and assembly of turnkey air and waste vacuuming installations.
Filters of sleeves, cartridges (compressed air, vibration or backflow cleaning)
Silos, cyclones and multi-cyclones.
Vacuuming pipes (even special executions)
Blanket and bag filters.
Humid type filters.
Oil mist filters.
Maquinaria principal
CNC Punching machine up to 6 mm. in common steel.
CNC Cramp-folding machine 125 Ton -3 m.
Cramp-folding machine 90 Ton-2.5m
Cramp-folding machine 90 Ton- 3m.
CNC Shears - 4 m x 4 mm.
Shears - 2 m x 10 mm.
Shears - 3 m x 5 mm.
CNC Disc saw - 150 x 150CNC
Profile curving machine - 60X60X5CNC Plasma machine for plate up to 8 mm.
MIG, MAG,TIG, Synergic in common steel, stainless steel, aluminium, brass and copper welding.
Paint cabin with hot air drying 6000 x 3500 x 2500
Diverse auxiliary machinery: ridgers, horizontal cnc cramp-folding machine, drills, lathe, etc.
Welding robot
Medios de manutención
Three gantry cranes for 10 Tonnes.
One gantry cranes for 5 Tonnes.
Certificados y homologaciones
ISO 9001:2000
Sectores cliente
AUTOMOTION
Materias primas
ALUMINIUM
Actividades principales
2.5.2.Guillotine-shears