LIKALE CAUCHO INDUSTRIAL, S.L.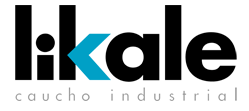 Contact information
Address
Oianzabaleta kalea, 4
Main languages


Facturación (en miles de €)
2999
% Exportación / Facturación
24.98
Persona de contacto
PEIO ALDASORO
Cargo
BUSINESS UNIT DIRECTOR
Teléfono
(34) 943 638 849
Correo electrónico de empresa
likale@likale.com
Productive information
Actividad productiva
Elastomer roller coating.
Experts in all types of ROLLER coatings, Likale has the required technology and know-how to create the most suitable compounds based on natural or synthetic rubbers, solving the customer needs.
Maquinaria principal
18 presses for molding of up to 500 Tn closing force and 3000 cm3 of rubber injection.
Room for rubber mixtures.
3 Cryogenic equipment.
2 Stoves and finishing equipment.
3 Equipment of artificial Vision.
Certificados y homologaciones
ISO 14001
Materias primas
ELASTOMERS
Actividades principales
9.RUBBER