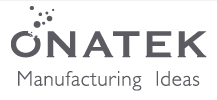 Contact information
Address
Polígono Industrial Erratzu Pab. 321
Main languages


Turnover (Thousand €)
498
Contact person
Ramón Goikoetxea
Company email address
r.goikoetxea@onatek.com
Productive information
Productive activity
Medium and heavy sheetmetal works. Manufacture of benches, sets and machine parts.Manufacture and assembliing of metal structures for industrial plants, public or private buildings.
Main machinery
1 Set of shears, plate 3 m x 12 mm thick.
1 press brake, plate 3 m x 140 tons.1
1 Plate bending machine, 2 m.
1 Semiautomatic horizontal ribbon saw 400 x 250 mm.
1 Self-loading automatic horizontal bandsaw 400 x 300 mm.
1 Submerged arc welding tower 4 m high x 4 m swing, on a 24 m track. 1000 generator.
2 Sets of jacking engines of 3 tons for 3 m diameters.
Different semiautomatic, electric and synergic welding equipment.
1 MIG automatic welding carriage.
1 Oxycutting pantograph with photoelectric reading 3 x 2 m.
Column and magnetic drills.
Diamond tip column drills up to diameter 160 mm.
1 Electric screwdriver with torque control up to 2000 Nm.
Furnaces and ovens for drying electrodes, wire and welding flux.
Different portable equipment.
Main supporting means
1 Bridge crane, 20 tons + 1 auxiliary crane, 5 tons.2 Bridge cranes, 10 tons.1 Auxiliary crane, 1 tons.Hook height: 8 m.
Control means
Callipers, manual and digital angle measurers, manual dynamometric key up to 1500 Nm and strain gauges. Non-destructive welding control systems
Customer sectors
MACHINERY
ARCHITECTURE
BUSINESS EQUIPMENT
ENGINEERING
CEMENT
PAPER MANUFACTURING
SIDERURGY
Main activities
2.TRANSFORMACION SIN ARRANQUE DE VIRUTA
2.20.MONTAJE DE CONJUNTOS Y SUBCONJUNTOS
2.20.1.Fine machine adjustement
2.20.2.Welding
2.20.3.Bolting
3.MECANIZACION CON ARRANQUE DE VIRUTA
3.3.TORNEADO
3.3.1.Center lathe
3.3.1.1.Torno paralelo menor de 1.500 mm. e.p.
3.3.1.2.Torno paralelo de 1500 a 3000 mm. e.p.
3.3.1.3.Torno paralelo de 3000 a 6000 mm. e.p.
3.3.1.4.Torno paralelo mayor de 6000 mm. e.p.
3.3.5.Vertical lathe
3.3.5.1.Torno vertical menor de 2000 mm. de
3.3.5.2.Torno vertical de 2000 a 4000 mm de
3.3.5.3.Torno vertical mayor de 4000 mm. de
3.5.FRESADO
3.5.1.Universal milling
3.5.6.CNC milling
3.6.BORING
3.6.1.Horizontal boring
3.6.2.Vertical boring
3.6.3.CNC boring
3.21.ASSEMBLIES AND SUBASSEMBLIES
3.21.1.Mechanical
3.21.2.Electro-Mechanical
3.21.3.Hydraulical
3.21.4.Pneumatical
3.21.5.Other